We are in the process of rolling out the use of SSL for all our customers.
This means that your website visitors and also the search engines will consider your website more secure to visit.
When this is rolled out, you will notice that the url have changed from http:// to https:// before your domain name. You will also notice the "green padlock" indication the same (see below picture)

websites that don't use SSL are normaly indicated with a exclamation mark ( ! ) as can be seen on the below image.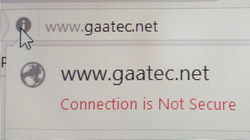 If you click on that exclamation mark you will get up a popup indication that the "connection is not secure"
The security aspect is one thing, but Google will also show preference to sites with SSL going forward.