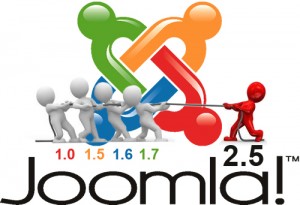 We today finalised the last Joomla migration from Joomla! Release 1.5.x. In this case from Joomla 1.5.26 to Joomla 2.5.7. With this migration done and dusted we are looking back upon 20+ successful migrations.
We started these migrations soon after J2.5.x was released, and migrated each webportal as the utilised extensions became J2.5 compatible.
Joomfish Delay:
The final obstacle to our migration project was the translation component "Joomfish", which was surprisingly slow in releasing a J2.5 version taking into account the popularity and importance of this extension.
However, as Joomla 1.5 reached EOS - End Of Support - last Month we felt we couldn't wait any longer, and after a bit of testing we found that the current beta version of Joomfish for Joomla! 2.5.x was stable enough to use on a production site.
It was not ideal to go this way, but the couple of frontend bugs we experienced with Joomfish were possible to fix with workarounds, and the few backend bugs we found we'll able to live with until they are sorted.
So with that, we say goodbye to our old hardworking friend Joomla release 1.5.x.