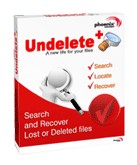 Ever needed to recover some deleted files?
I needed to recover a deleted file recently and found Undelete Plus when searching for free tools to help me out.
Within 5 minutes I had downloaded, installed, ran the application, found the deleted file, and restored this. I was actually amazed with the simplicity and ease of use of this tool. It was fast and intuitive.
Definitely recommended.
External Review: http://tinyurl.com/8fsge7
Undelete Plus website: http://undelete-plus.com/