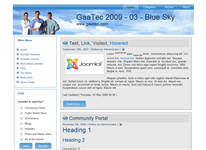 GaaTec have now added a download section containing FREE Joomla 1.5 templates.
We wish to contribute to the open source community, and have therefore made available a few Joomla templates we have designed.
The advantage with the templates from GaaTec is the amount of module positions available (20+). and the only thing the users have to contribute with is to maintain a link on their site giving us credit for the design work.
Should anyone require tailoring of the free tempaltes, then we are happy to give a quote based on the exact requirements.
Going forward we also expect to add a pay per download section with a wider range of templates at reasonable prices.