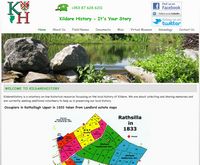 We wish to congratulate KildareHistory.ie with their upgraded site, now on Joomla 3.x.
The project included backup of the old outdated site, securitycheck of all files, then migration to Joomla 2.5, and then onto Joomla 3, and finally upgrading this to the latest version.
We also developed a new responsive template to improve the experience for mobile devices.
In addition we have added some new functionality and also several levels of added security to be better protected against hackers.
The project concluded when with us handing the site back to the customer again for ongoing management.
Click on the thumbnail on the right to have a look at their new site.