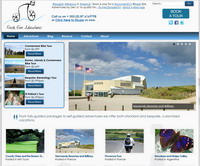 We have lately been working on an upgraded and improved website for a new customer on the domain FreshEireAdventures.Com.
There was already an existing outdated Joomla 1.5.x site on the domain, and we upgraded and migrated this to Joomla 2.5.x.
We updated the content and added a few new Joomla extensions, both to improve the functionality of the site, and also to add some administrative functionality wrt. security, backup and management.
We initially took a snapshot of the live site and set that up on our own server. We then worked on the site on a temporary url, and finally moved back and switched live the upgraded site last Thursday. The new site is now hosted on their own hosting, and GaaTec will going forward manage the technical aspect of the site as and when required.