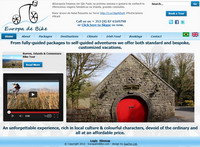 We last week launched EuropaDeBike.Com for yet another new customer this Month.
This website is promoting bicycletours in Ireland towards customers from Brazil. The site is therefore both in English language and Brazilian Portuguese.
We ordered the domain name for the customer, and are hosting their new Joomla webportal on our Irish server. The customer provided all translations, and will manage and update the content as required.
GaaTec will going forward manage the technical aspect of the site, hereunder make sure that Joomla with all extensions are up to date, and also take regular backups of the site.
All the best!!