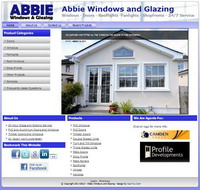 We wish to congratulate our new customer Abbie Windows and Glazing from Dublin with their new website on www.abbiewg.com.

This customer had an existing Joomla site running on version 1.5.x of this awardwinning CMS software. We moved the site to our Irish based servers, and migrated the site to the latest version of Joomla, namely version 2.5.x. We then changed some of the functionality to better suit their needs, and finally topped it up with a new look and feel.
The website is still under construction, so expect to see some changes to the content over the coming weeks.