We wish to congratulate the composer and musical arranger Samer Hatoum with his new website.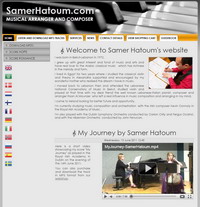 Some info on the technology we used on this project:
The site is built using Joomla CMS technology with numerous components, modules and plugins.
GaaTec are now hosting the site on our server.
Samer is now able to sell MP3 tracks and sheet music for his musical scores from his site. The customer can listen/preview the tracks/scores respectively, and thereafter place the order safely through Paypal/Creditcard. When payment is secured the site automatically send the customer the download link and the sale is recorded in the database.
Guestbook with spam protection and email notifications.
YouTube integration for video streaming.
Contact form with email forwarding and database on site.
SEO - Search Engine Optimisation.
Search Engine Listing.
Dynamic Sitemap
Google Analytics integration.
Integrated with Google translation.
News Blogging.
You can visit his website on www.samerhatoum.com